American Biltrite Rubber Lines Awarded Declare Red List Free Status
Monday, February 27 - 2017
American Biltrite is pleased to announce that its rubber flooring products (AB Pure® and Marathon®) have been awarded Red List Free status which is part of the Living Building Challenge Declare Program.
What is Declare?
The Declare label simplifies the search process while encouraging positive changes in the marketplace by providing the following information:
• Where the product comes from
• What it's made of
• Life expectancy
• End of cycle destination
The program provides a clear and informative label for building products and supports the Living Building Challenge's Red List for material transparency and toxic chemical avoidance as well as simplifying material specification and project certification.
Declare frees specifiers from conducting elaborate and time-consuming research in order to find the «right» product.

What is "The Living Building Challenge"?
The Living Building Challenge is the world's most rigorous proven performance standard for buildings. The Living Building Challenge is a program of The International Living Future Institute who, working in conjunction with the Healthy Building Network and the Pharos Project, have developed the Red List.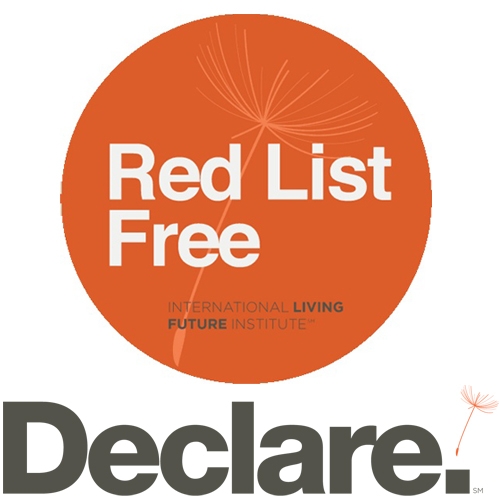 What is Red List and what does it mean to be Red List Free?
Red List: The Red List represents the "worst in class" materials, chemicals, and elements known to pose serious risks to human health and the greater ecosystem. For a product to be awarded Red List Free status means that it does not contain any ingredients on the Living Building Challenge Red List and as such is a preferred product in buildings.
To learn more about the Living Building Challenge, visit www.living-future.org/lbc.
« Back